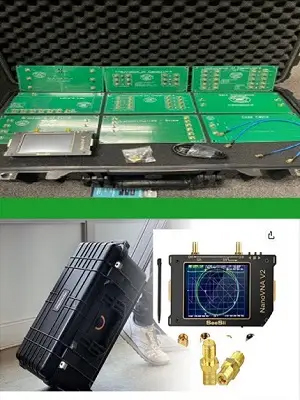 Members:

$2990.00

IEEE Members:

$3800.00

Non-members:

$3800.00

Pages/Slides: Physical Product
A series of specialized printed circuit boards (PCBs) was initially developed at the University of Twente, located in the Netherlands. These PCBs were subsequently donated to the IEEE EMC Society, with certain modifications implemented to emphasize specific aspects of inductance. Understanding inductance is crucial for comprehending concepts related to electromagnetic compatibility (EMC), power integrity (PI), and signal integrity (SI).

Our educational kit has been designed to facilitate the comprehension of these fundamental principles within an easily accessible measurement environment. It consists of the aforementioned PCBs, accompanied by a nano-VNA, cables, and adaptors. These components are conveniently packaged in a durable carrying case. The kit is available for purchase through the IEEE Resource Center, priced at $2,990 USD for EMC Society members and $3,800 USD for non-members.

Within the kit, you will find PCBs specifically tailored to address various concepts. These concepts include self-inductance, Lenz's law, inductance of capacitors under different trace distances (Capacitor Inductance #1), inductance of capacitors with different dielectric materials (Capacitor Inductance #2), inductance influenced by package size (Capacitor Inductance #3), inductance of different filter connections, inductance caused by splitting the ground-reference plane, inductance associated with guard traces, and the impact of stubs.

By utilizing this comprehensive kit, users can gain a deeper understanding of the principles and effects surrounding inductance, thereby enhancing their knowledge in the fields of EMC, PI, and SI.
Click "Add to Cart" and use a credit card to purchase this product.